Many of the concerns that we raised this time last year remain live issues and there is substantial work needed for the regime to work efficiently post Brexit.
While Brexit remains a polarising issue, our research of 1,000 UK consumers has found that most people are not happy with progress. Just 36% of people are positive about the UK's prospects post Brexit and just 22% feel positive about progress so far. Against that backdrop, only 24% of consumers expect living standards to increase post Brexit with 61% expecting price increases. This will make an already challenging market even more difficult.
Given the political dissatisfaction with the position of the Irish border and how the c.209 crossing points will operate and for how long, the brutal truth about the challenge of the 'cake and eat it' negotiating position has been laid bare and the very real challenges of delivering a model that works exposed for all to see.
On the positive side there has at least been some progress. In addition to the Withdrawal Agreement, we also have the Primary Act necessary to pass Brexit, the Fisheries and Agriculture and Trade Bills. But the last three are yet to receive Royal Assent and other key Brexit legislation still needs to be introduced. In addition, much of the necessary legislation to either adjust existing legislation for post-Brexit or to transpose EU rules is yet to be seen.
This lack of action led the Public Accounts Committee Chair to issue a damning assessment of Defra's progress in November:
"Anyone working in the dark is prone to stumble but in Defra's case I am concerned that the Department has lost sight of its priorities.
The risks associated with 'no-deal' in particular are severe, and it is alarming how little specific information Defra has provided to enable individual businesses and organisations to prepare.
Brexit border planning is not sufficiently developed, six critical IT systems are still to be tested and there is a risk that in the Department's rush to prepare necessary legislation, the quality of that legislation will suffer."
There is a Tsunami of legislation required to ensure that the UK can continue to operate and we share the Public Account Committee's concern that the pace needed for this legislation to pass will result in less scrutiny than is necessary or appropriate. As a reminder, all of the areas in the table below are covered by EU Regulations that need to be transposed into domestic law in order to keep operating.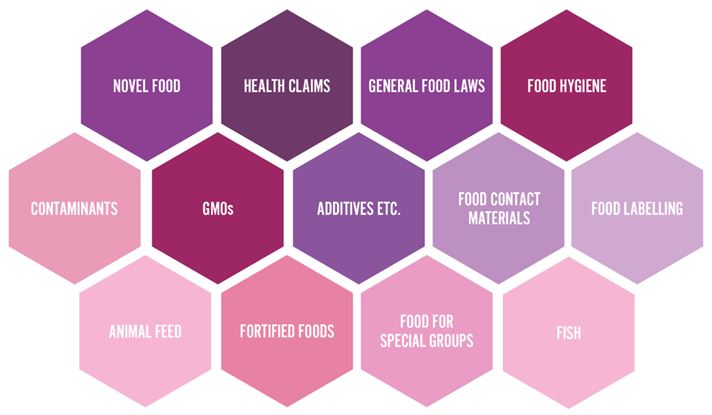 It may be that if the Withdrawal Agreement passes, the transition measures in it will buy time which will allow things to be completed, as the EU law will continue to apply until it does not, and the Agreement could be extended to create more time. However right now it is unclear if the UK will be able to hold up its side of the bargain and this protection may well fall away resulting in an exit from the EU without the necessary framework in place.
There are also the systems necessary to make ports and supply chains work to consider. Now is a good time for organisations to appraise their business strategy and supply chain and plan for contingencies should these become interrupted or delayed.
It is clear that there are going to be practical, legal, and regulatory issues at every stage this year and we will keep you updated as the developments occur.
The future?
Looking more towards the medium and long term there will be opportunities for business to realise change and to achieve new UK systems of regulation that address some of the issues posed by the EU ones: who would not like a health claims system that allowed more logical claims to be made for instance? However this will also open the door for other changes, such as amends to labelling and mandatory nutrition marks that may cause concern for some. Now is a good time to start to identify what an ideal future might look like as we have a greater opportunity than ever to influence the shape of regulation.
If you have any questions on the issues discussed, please contact Dominic Watkins, Global Head of Food.
Register for our weekly Retail, Food & Hospitality regulatory and Brexit update's to stay up to date with changing regulations >
Find out more about the other big trends facing the food industry this year >