At present there are more questions than answers and it is very easy to be overwhelmed by the scale of the task ahead. To keep things simple, our Brexit Blueprint is focussed on three core areas:
Labour availability: Over 40% of the sector's labour comes from the EU. Concept of employee now more fluid than ever. View our top five tips on labour supply and workforce planning >
Regulation: 95% of the sector's regulation comes from the EU. Do we want a new system keeping the best. Do we want a third way?
Tariffs, quotas and trade: Food will be the most impacted sector by moving to WTO system. Even if you don't export final product, increased supply chain cost will impact you.
While we have seen the Secretary of State say that things will stay the same, we have also heard him say that we must prepare for a WTO environment. We know that the EU Withdrawal Bill should transpose the current EU law into UK law, but we also know that absent a very specific agreement, our regulatory systems will diverge as the EU adds to its lists of approved additives or novel foods or health claims. Without any action at all the, two regimes could in the relative short term start to look quite different and that's before anyone starts to explore the opportunities that might exist.
The scale of task at hand
Just think about the food based EU regulations which need to be transposed. This is a drop in the ocean compared to c.7000 Regulations due to be transposed overall!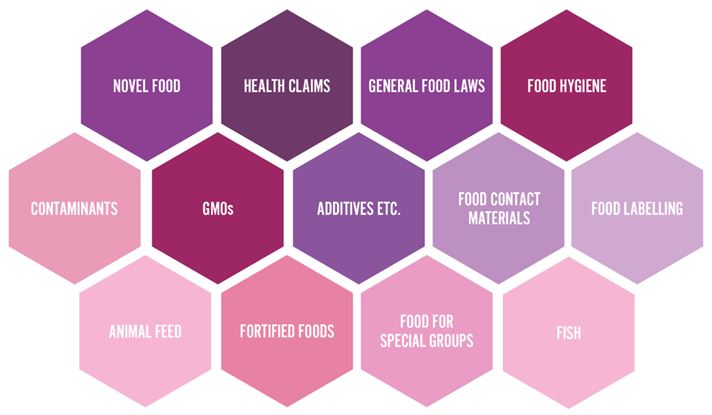 Opportunity vs Risk: the eternal balancing act
Brexit has the potential to create a great number of opportunities for the food industry, but businesses and government must ensure the pros outweigh the cons and importantly not be change for change sake. For example:
How do we ensure we retain safety and high standards of consumer protection and simultaneously reduce cost/ burden on business? GMOs may improve yields but will they be accepted? Or what if we agree a US Free Trade Agreement, would we accept chlorine rinsed chicken as a mechanic to reduce campylobacter – we are OK with chlorine rinsing on salad so why not chicken
Changes to labelling or policy in the UK could benefit the UK market. Allowing PHE to get an alternative to numbers on front of packs could help people understand sugar content for example. But, will they deliver any improvement and will the additional cost to business be worth it when business would still need to meet EU standards for any export to EU market.
Brexit could be an opportunity to reinvent our border control but the lack of border inspection posts, for example on the shared border with Ireland could mean delays to supply chain and a just in time supply chain becomes just too late. Would blockchain be a solution to this challenge?
Changes to the health claims system could allow 'sensible' decisions to be taken regarding claims language – changing the claims wording to something comprehendible to consumers. But again we may face the EU export challenge.
So how do we create a system that respects the precautionary principle whilst embracing greater market openness?
Should my business still align itself to EU regulations?
Moving forward, the UK has a choice to make. Any substantive free trade agreement is likely to require or expect regulatory alignment or convergence. So will the UK continue with alignment with EU regulations? That will be important to food businesses wishing to avoid the costs of having two product lines: one for the UK and one for the EU, and to maintain a frictionless supply chain as products move from country to country as they currently do. Or will the UK move closer to a US or third model seeking to try and access much bigger markets such as India or China.

Shaping the agenda…
Food production and consumption are becoming ever-more emotional topics, as they overlap with a range of wider social concerns including safety, Fairtrade, childhood health and the environment.

These issues apply across the EU but, with Brexit on the horizon, there is an opportunity to shape the future of legislation to ensure that it can provide bespoke protection and opportunities to national consumers and business within, and trading in the UK, whilst addressing these concerns on a local level.
If you have any questions on the issues discussed, please contact Dominic Watkins, Head of Food.
Find out about some of the other big trends facing the food industry this year >