This has resulted in continued calls for measures – such as a so-called fat or sugar tax – to deal with unhealthy food. Public Health England's latest Change4Life campaign reports that half of children's sugar intake comes from so-called "unhealthy" snacks and sugary drinks which contribute to obesity and dental decay. The campaign encourages parents to limit children to two 100 calorie snacks a day, with the exception of fruit and vegetables.

Once again, it is the food industry that is facing pressure to address the issues. There are already 15 pledges relating to food under the Government's Responsibility Deal, and industry has been steadily reducing calories and sugar for years – there has been a substantial reduction in soft drinks for example. With the food industry responding to pressures and already focussing efforts on making food healthier, these campaigns further extend the goalposts, making it more challenging for the industry to keep up, especially with the changes that occurred in the move from the Eat Well plate to Eat Well Guide.

When we spoke to over 100 c-suite representatives from food manuacturers, 95 per cent said they envisage reducing the sugar composition of their food.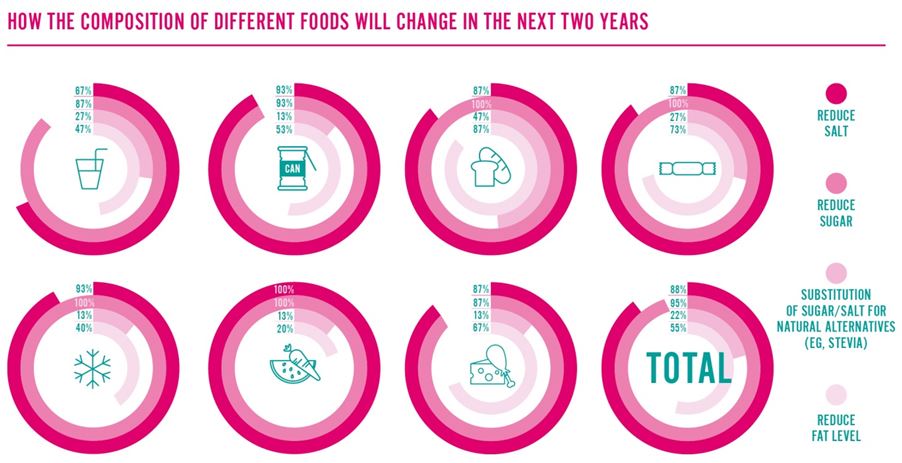 If you think your products might be affected what can you do? And what are the challenges with making product changes?
Food manufacturers are adjusting products in three key ways.

1. Reducing portion size
This is a good option if reformulating your product would compromise its quality and/or taste. But reducing portion sizes is not without its risks. Maintaining the same pricing structure for a smaller product might result in disgruntled consumers, who feel that they're paying the same for less – so-called Shrinkflation. How you go about reducing portion sizes is also important, ensuring that the characteristic features of the product are not altered so much that it attracts consumer criticism (as was the case when Toblerone reduced the size of its chocolate bar by making the gaps in-between the "mountains" bigger).

2. Replacing sugar with sweeteners
This is one way to reduce the number of calories in food and, with sugar firmly on the "bad list", an obvious choice. But do choose your sweeteners wisely. Firstly, sweeteners have a different taste so it is not a simple as a straight swap, and often sugar has a role to play in the mouth feel of the product that a sweetener doesn't achieve. But then there are the regulatory issues too, such as sweeteners being additives and therefore subject to EU food additive regulations, controlling what food categories they are permitted in and at what levels. Also, some sweeteners carry mandatory warning statements so you'll need to take this into account if you decide to replace sugar with these.
3. Reducing fat
This can also bring down calorie intake, but be careful about what you replace it with. Many "fat-free" prepacked products also contain high amounts of sugar and so, whilst they might fall within the "100 calorie" snack category, overall not be health choice for children.

If you decide to reformulate products to enable them to fall within the "100 calorie snack" category, it will be key to maintain product quality and taste to ensure overall customer loyalty isn't lost. Distinguishing your product from your competitors, whether based on taste, heath benefits, convenience or novelty will also enable your reformulated products to thrive within the market, whether aimed at parents buying snacks for their children, health conscious adults or consumers just looking for a tasty snack.
If you have any questions on the issues discussed, please contact Dominic Watkins, Head of Food.
Find out about some of the other big trends facing the food industry this year >