George Bernard Shaw is credited with saying "It is the mark of a truly intelligent person to be moved by statistics".
Readers who are moved by statistics may be interested in The Courts' Service Annual Report for 2017, which includes statistics on the types of claims the Courts' Service dealt with last year. Having compared them with previous years (where information is available) we have identified the following trends that may be of interest to professional indemnity insurers:
Professional negligence claims
High Court negligence claims (which excludes personal injury and medical negligence claims) have significantly reduced in the past four years. This is certainly good news for insurers. See the chart below: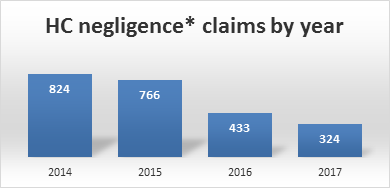 *negligence does not include personal injury or medical negligence claims
High Court's regulation of certain professions, including solicitors
The High Court also regulates the following professions: doctors, dentists, nurses and solicitors. Since 2007 there have been 2,482 Orders made by the High Court relating to the confirmation of and appeals relating to, sanctions imposed by bodies regulated by statute affecting the ability of a registered professional to practice.
It appears from the statistics from 2008 – 2013 that the vast majority of these Orders related to solicitors. Unfortunately, since 2014, there is no breakdown by profession but it is safe to assume that solicitors are still the subject of the bulk of these Orders.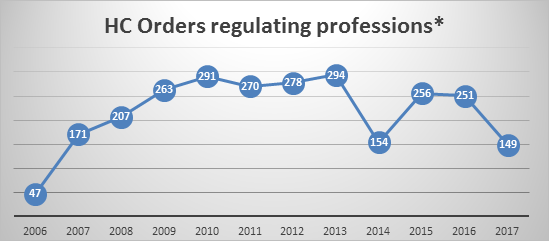 *doctors, dentists, nurses and solicitors
A very telling statistic, however, is that in 2007 there were no regulatory Orders against solicitors!
The good news is that in 2017 these Orders are 50% down on the numbers in the height of the recession 2010/2013 and hopefully this means that there is better compliance by solicitors and/or earlier intervention by the Law Society.
Defamation claims
In our experience, defamation claims notified to professional indemnity policies are on the rise, though they tend to be limited publication and therefore low value.

This is reflected in the Courts' Service statistics on defamation claims, where Circuit Court defamation claims are on the rise: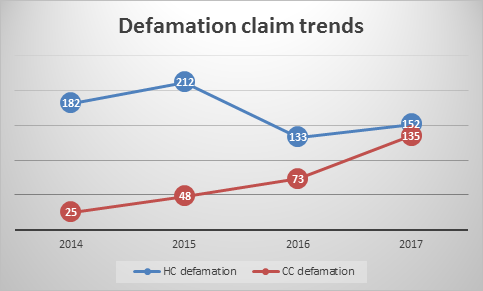 For further information, please contact Sinéad Ryan at sinead.ryan@dwf.law or check out the website www.courts.ie