Firstly let me start by wishing you the very best for this festive season and here's hoping that 2021 will be a very different year. I hope in any event you have had a lovely Christmas and gorged yourselves on turkey, Christmas pudding, stilton and port..

For those of you reading and fervently hoping for a festive bumper edition I am afraid you are going to be disappointed. Firstly, whilst the New Year ski trip to the Alps was cancelled long ago, I did manage to take a few days of annual leave before the French border closed, and secondly we don't yet have the data through to the end of the year for a full year review. So that will have to wait until January, and who knows – with Brexit done will whiplash reform be the next thing we can cross off our Christmas list..?

One thing is for sure, despite the encouraging signs around vaccines, it is clear that Covid restrictions will be with us well into 2021 with predictions of stricter lockdowns and potential school closures as I write.

In our review of the October Portal data last month, we anticipated a further reduction in activity levels in the November figures as a result of the second lockdown. This can be seen reflected in the data but to a much lesser extent than during the first lock down in March and that seems an appropriate moment to move on to the transport statistics to see how the second lockdown affected the use of cars, commercial vehicles and public transport.
Use of Transport Modes up to December 2020
It is interesting but not surprising to note that the second lockdown has not had such a profound effect on private vehicle usage as the first, as demonstrated below: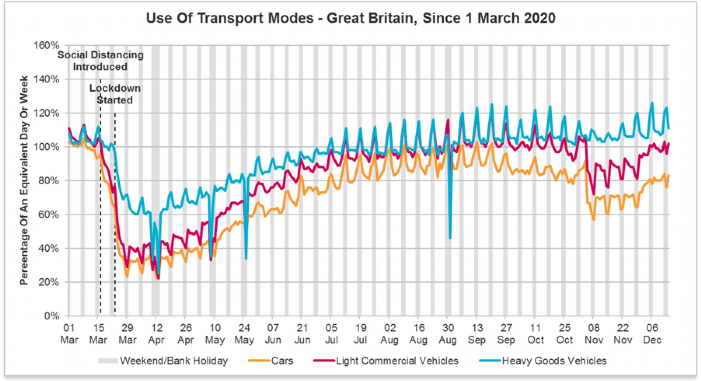 At its lowest ebb, private car usage was down to 22% of pre-lockdown levels in April 2020. When the lockdown eased, this rose to a high of 103% in September 2020, as travellers stayed away from public transport. In the second lockdown during November 2020 rates fell to between 60 and 70% in December 2020 with schools and more shops remaining open. Light commercial vehicle usage also saw a reduction of around 15-20% whilst HGVs were largely unchanged.

Insurers will already be seeing a reduction in claims as a result and the weather has been fairly benign so far although storm Bella and the recent snowfall since Christmas Day may be the precursor of things to come.

Public transport usage remains way down and one wonders whether that has been the case for so long that there has been a perception shift which may outlive Covid. Once one gets out of the habit of commuting say by train, it might not return, especially with an element of home working for many professions expected to be perpetual. By way of example, use of national rail has never exceeded 41% since the start of the crisis and is now hovering around 23% of normal use.

Talking of different forms of transport, the Transport Select Committee have published the Government's Response to the Third Report of Session 2019 – 2: "E-scooters: pavement nuisance, or transport innovation?" The report can be accessed on the Committee's page here and contains most of the concerns that we highlighted some time ago. Use of e-scooters on pavements was the main concern of the Government and they have stressed that this remains illegal. Despite this, local trials in Liverpool have demonstrated that there is an urge to ride the scooters on pavements much like a push bike (which also remains illegal!). The trials in Coventry were pulled due to the danger caused to the public.

During the trials e-scooters require compulsory insurance and even a driving licence yet we are already seeing and hearing of increased significant injuries from accidents involving e-scooters. It is perhaps best to sum up with a direct quote from the Chair of the Transport Select Committee, Huw Merriman MP who said 'when we launched our inquiry, we asked whether this mode of transport was a pavement nuisance or transport innovation. The answer is that e-scooters are both'. The trials will continue until Autumn 2021. Insurers will be hoping after that some level of cover is made compulsory given the risks of significant injury claims arriving at their doors.

Another interesting barometer is this survey snapshot from the ONS regular updates. Here we can see that during the November lockdown there was inevitably an increase in the proportion of people exclusively working from home, however the proportion of people travelling to work wasn't significantly impacted.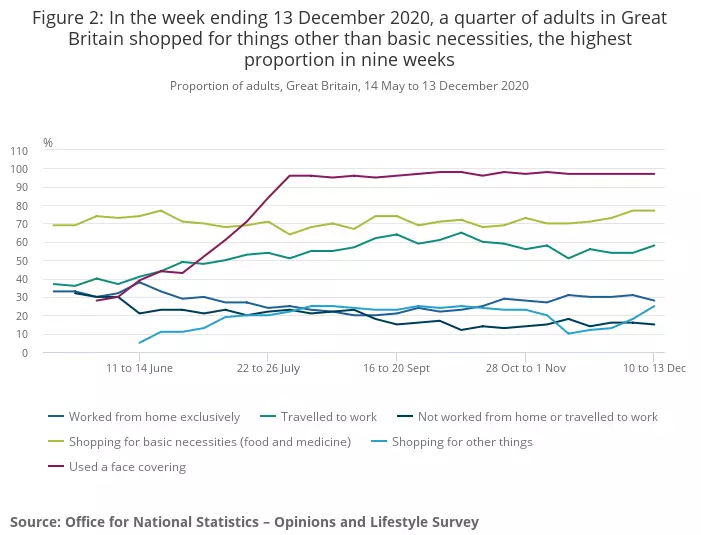 Footfall
Going further we can see that footfall in retail – whether high street, shopping centre or retail park – bore the brunt of the November lockdown, something impacting no doubt upon the number of PL claims in particular but also less road traffic accidents with weekend shoppers and less EL claims with the number of employees in shops reduced: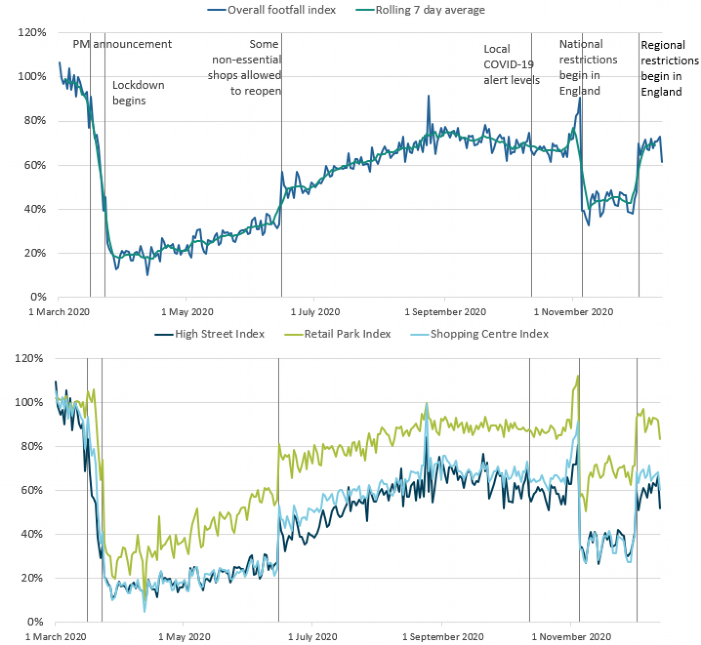 Whilst the graph above shows an increase as soon as lockdown lifted, perhaps in a sign of things to come the latest ONS update on footfall showed that on Sunday 20th December, the day after the introduction of Tier 4, footfall across all retail destinations showed a reduction of 17% against the previous day.
Whiplash reforms
The formal minutes of the Civil Procedure Rules Committee (CPRC) from the meeting on 6th November, revealed that a draft PAP was before the committee, but that "detailed points still being considered, still much to do". The CPRC met again on the 4th of December, the minutes from that meeting are yet to be made public but it is understood most of the work is in the hands of the sub-group working on the draft Rules, with the full CPRC hoping to reconvene in January to specifically review the Rules. There is intense government pressure to "get whiplash done" in the same spirit as Brexit, and it may be that the same principles will apply – in summary it might not be perfect, but it's good enough for now and further delay is not an option.

Even with that approach we are at the point that implementation at the beginning of April is not going to happen, but delay in implementation is more likely to be measured in weeks rather than months. Sign off before April may give everyone the opportunity to say "we did what we said we would", even if the implementation date is 3 months after sign off to give the industry the minimum lead in time required.

Another possible fly in the ointment is finding parliamentary time to deal with the secondary legislation required – both for the new Rules themselves which should be straightforward, and the approval of the tariff, associated definition of whiplash and ban on pre-medicals which requires active approval of the House by affirmative procedure – essentially some form of debate in both Houses where the average time for the full process is 6-7 weeks. On the one hand with the significant Conservative majority and bigger fish to fry that may be a quick tick box exercise, but with Parliament in recess from the 13th to the 24th of February before Easter recess (25th March to 21st April) there is only a small window of opportunity in a timetable likely to be dominated by scrutiny of Brexit arrangements and consequential legislation, and similar with Coronavirus. Everything still needs to come together to fit through that window.
Other news
On the 18th of December the Civil Justice Council published their report on the workings of low value claims, chaired by our own Nicola Critchley. The terms of reference for the Group were to consider and recommend what further reforms could be introduced for low value (under £25k) personal injury claims, with a view to (i) resolving meritorious claims more quickly and with the costs reduced and (ii) preventing unmeritorious claims.

The CJC working party which was chaired by Civil Justice Council member Nicola Critchley, brought together expertise from the Judiciary, Association of Personal Injury Lawyers, Insurers, Insurance lawyers and the NHS. The Master of the Rolls welcomed the report in October 2020 and the recommendations will be considered carefully by the Ministry of Justice. The Civil Justice Council has committed to use the report as a basis for informing further research and review.

The report identifies a number of areas of focus on which the group has tried, where possible, to reach consensus and make recommendations. Where this is not been possible, the conflicting views have been summarised. It is also noted that the report has been prepared during the extensive period of reform, and it considers both the current and potential future impact on the conduct of low value claims. Read our update here.

We start our statistics round up with the Civil Court statistics from HMCTS and it can be seen that the November lockdown saw a slight dip in the number of claims issued, which had reached business as usual levels at the end of October. That is likely to only be temporary: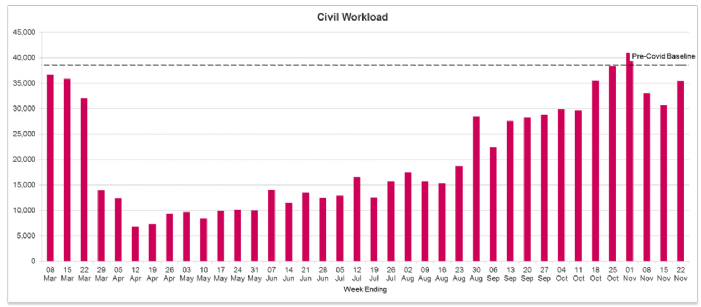 It is however becoming apparent that there are significant delays in the claims process that are increasing lifecycles making claims generally more expensive for all concerned. Not all of this can be laid at the door of HMCTS as they and practitioners have in the main adapted very well. Some slippage, especially in multi-track actions, has to be expected and some of this will be court delay, combined with delay with medical appointments and treatment.

Civil hearings remain well below pre-Covid levels but the number of adjournments due to Covid has fallen dramatically. This doesn't necessarily sit with our own experiences in practice but it may be that adjournments due to reasons other than Covid remain high. The fact that hearings remain at a lower level may be to do with the co-operation between the parties and cases settling under ADR or pre-litigation.

What isn't clear is whether the claims that weren't issued throughout March to October are still out there, or if they have been resolved. In terms of claims affecting insurers, a large proportion affected will have been money claims only – ie the recovery of bent metal rather than injury. The standstill agreements may have seen some of those claims just resolve without litigation with a slightly longer timescale, or we may see some further ramping up as insurers seek to unlock revenue from claims that haven't yet resolved.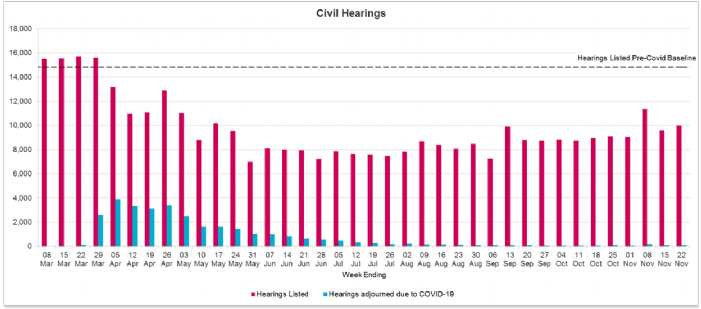 Harder to spot and understand from data are the injury claims. Firstly, it would seem too early to put the reduction in litigation down to reduced RTA claims from reduced traffic on the roads so we can probably discount it being a natural dip due to lockdown. As with bent metal claims, some of those injury claims that didn't litigate may have been resolved without litigation either through increased use of ADR or just a more consensual approach which undoubtedly came about during lockdown. Or they may be claims that weren't issued because medical reports couldn't be obtained, evidence couldn't be finalised and they are yet to materialise. We have certainly seen it take longer to produce evidence and so this cannot be ruled out. It's certainly something for insurers to keep a close eye on.
Portal Data
As expected there was a further drop in new claims in November 2020 as the renewed lockdown came into play reducing traffic and shutting hospitality.
New RTA claims
Firstly a note about vehicle miles travelled – the quarterly figures have been updated by the Department for Transport showing 76.7bn miles travelled in Q3 2020 (Jul-Sept) which is a dramatic improvement on the Q2 figure of 46.1bn, but well down on Q3 2019 which was 92.3bn. As a result the black line on our graph representing the rolling 12 month figure has dropped to 288.7bn.

In terms of portal data, new RTA claims fell to 40,610, nearly five thousand down on the previous month or 10.9%: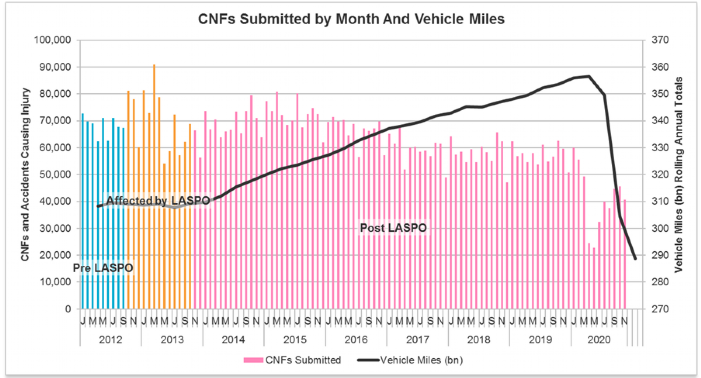 There are however slightly less working days in November (21) than October (22) so the weighted figure isn't quite as stark: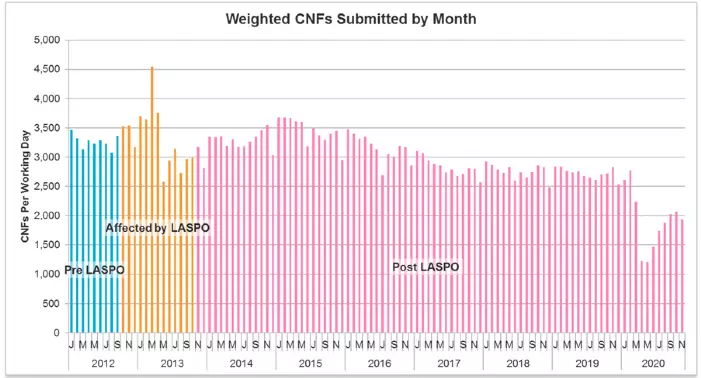 When taken against the same November period in 2019, RTA's were down 31.8%. The cumulative picture is now hovering just over 500,000 claims per annum and next month we will inevitably need to adjust the scale on our graph below…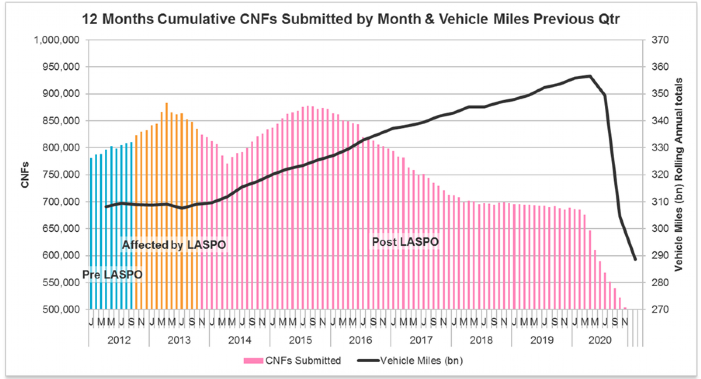 New Casualty Claims
In November, there were 2230 EL accident CNFs, a drop of 18.3% compared to October and 3172 for PL claims a similar drop of 18.2%, both no doubt reflecting the reduced footfall and the working from home during the November lockdown not too dissimilar to May/June: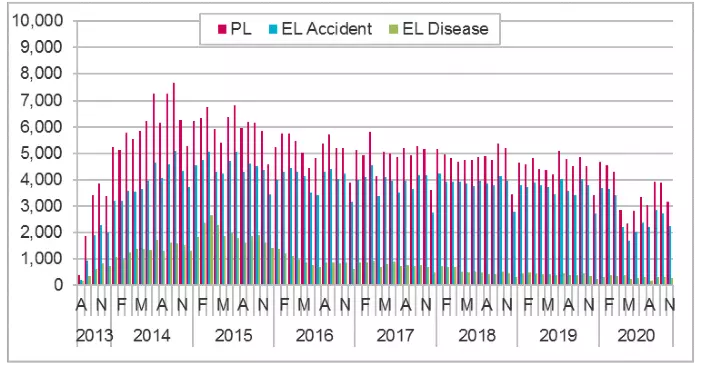 The cumulative picture shows new EL and PL accident claims through the Portal at a little over 30,000 and 40,000 claims per annum respectively, significantly reduced since the peak in 2015.
Court Packs and PSLA
Court pack submissions in RTA claims were down to the lowest level since 2014 with just 3744 packs submitted. This might in part be due to increased use of ADR given the court backlogs, or more likely a reflection that the reduction in new CNFs from March means there are substantially less claims that can move to stage 3.

The use of stage 3 in EL and PL claims remains very low and presumably unattractive for claimant solicitors – just 44 and 43 packs in November respectively.

PSLA in RTA was largely static, hovering around the £2.9k level at £2897. There was a small increase in PL to £4743 but a reduction in EL accident to £4744.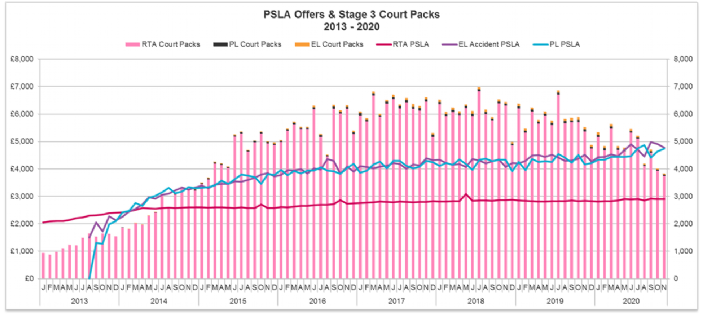 Retention Rates
Although the monthly figures show something of a yo-yo effect, the cumulative picture is easier to follow. RTA retention rates average around the 40% mark, with PL and EL accident around 25%: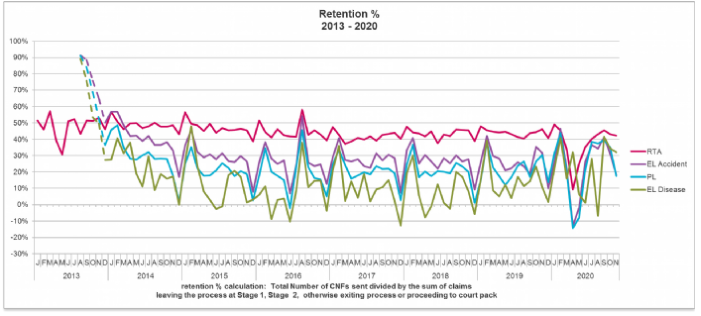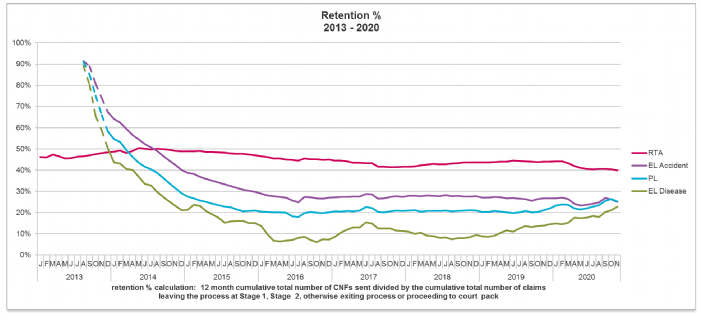 So there we have it. The portal CNF figures remain in general decline and whilst we have vaccines on the medium term horizon, further lockdowns seem inevitable before we reach that point and potentially school closures this time. A further factor around the time we may see the impact of any vaccines will be the whiplash reforms. Past experience suggests that whatever the final impact on frequency and severity from the reforms, there will be a short term reduction in frequency whilst the industry gets to grips with the changes. Then the question will be whether frequency will see a long term reduction as a result or whether even with a reduced tariff for whiplash claims the innovative claims industry will adapt and flourish.

Certainly the way we work and the way we travel to work (if at all) has changed significantly over the past year and nobody could have predicted that level of impact and consequential reduction in claims during that period.


Best wishes to you all for 2021, let's hope it brings plenty of reasons to be cheerful and I may yet get that ski trip in…