With longer days now with us and the vaccine programme hitting its stride, at the time of going to press Boris Johnson has just launched his roadmap out of lockdown. The four-step process laid out today shows a gradual relaxation of the rules with schools to return on 8 March 2021 but non-essential retail and outside hospitality not until 12 April 2021. Indoor hospitality should re-open after 17 May, with "normality" set to return on 21 June, if we can remember what normality is of course!
We can expect the roads to get gradually busier throughout the Spring, just at a time when the whiplash reforms should be implemented.
The portal data for January, generally one of the more productive months after the return from the Christmas break, sees a slight rise in CNFs submitted compared to December but the year-on-year stats demonstrate a dramatic drop off from the 2020 figures. A recovery can be expected through the next few months as activity increases both in terms of traffic and footfall.
Whiplash Reforms
The new Pre-Action Protocol and Practice Direction should be published any day now, and a strategic update in that regard will follow, so I don't propose to say much about the reforms at this point.
Suffice to say that even at this point we are hearing of last minute changes to the tariff which we expect will be published at the same time. Whilst the MOJ are keen to leave three months between publication and implementation at the end of May, given the final screens for the new Portal have yet to be finalised the industry will have very little time to prepare – and at a point when we can perhaps expect claims departments to become busier with the lifting of lockdown.
In an indication of what might be to come, First 4 Lawyers announced that it intended to create its own law firm to handle RTA claims, and would stop passing on low value RTA cases to its panel members. This step probably reflects a lack of appetite in the existing market to handle RTA claims valued under £5,000. Certainly there isn't enough in it to justify a marketing fee to receive such claims.
We can expect the public information campaign to ramp up from publication of the rules. For professionals there are roundtables and workshops coming up with both the MOJ and MIB from the end of February onwards. There is plenty of work to be done.
Other News
Elsewhere, the government has announced as expected that it will depart from the Vnuk case extending insurance requirements to new groups of vehicle, saving apparently £50 a premium going forward, or £2 billion overall to the insurance industry. It will be interesting to see in due course how this affects e-scooter legislation where the trials are ongoing. Leave to appeal to the Court of Appeal has been granted in the case of Griffiths v TUI, which substantively deals with the treatment of uncontroverted medical evidence in a holiday sickness claims, but which may impact upon other classes of claim, for instance in the area of late and farmed claims. The case has been given a "hear by" date of 20 December 2021.
Use of Transport Modes
As might be expected, there have been only slight differences in transport usage levels over the past month, as the lockdown rules have not changed during this period. Private car usage rose slightly to 61% of normal on 15 February 2021, light commercial rose to 83% and HGVs were operating at 100%. This provides a combined ratio of 68%, the highest since 23 December 2020. Remember that the baseline is taken from the beginning of March 2020, so is not compared to levels just before the current lockdown.
It should be interesting to see the patterns as lockdown is lifted, with increases expected after 8 March when schools re-open, 12 April when there is a return to shopping and staycations, then 17 May when we may even see a return to stadia events. Maybe by June we might have an answer to the perennial question of what the new normal will look like.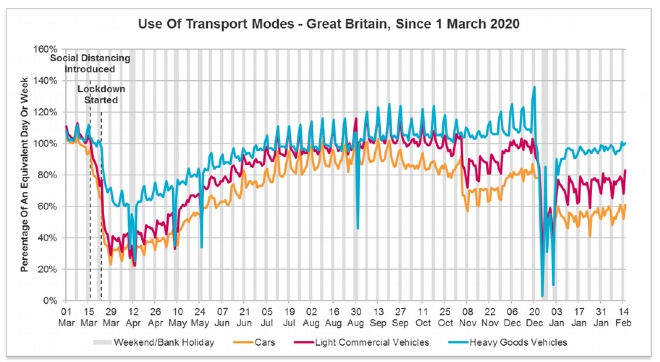 Working practices and footfall
Again as you can imagine there has been little change here either, with retail businesses still closed. In the week ending 14 February 2021, the proportion of working adults in Great Britain who in the last seven days travelled to work (either exclusively or in combination with working from home) decreased by 3 percentage points when compared with the previous week to 44%, whilst the proportion who worked exclusively from home remained broadly unchanged with the previous week at 37%, the highest proportion since June 2020.
Retail footfall has risen a couple of points since our last update at 39% of the equivalent week in 2020, and visits to retail parks are likely driven by supermarkets and fast food outlets.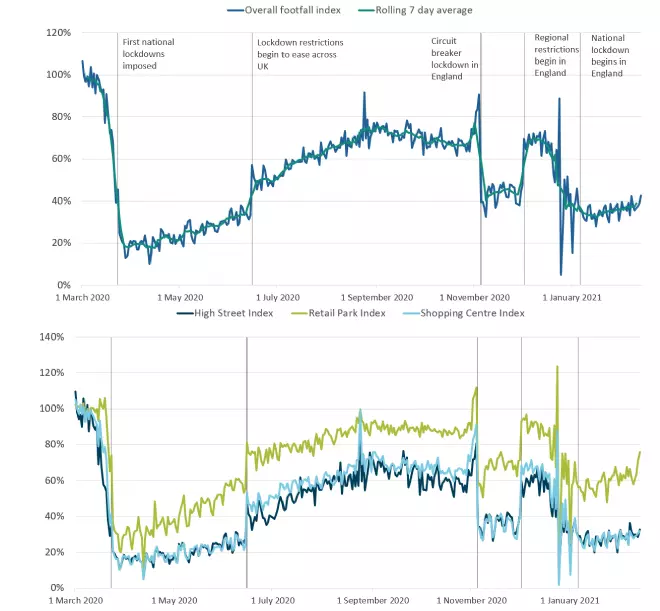 Civil Justice Statistics
The statistics from HMCTS are as at 24 January 2021, and demonstrate that the courts' workload did indeed pick up again after the holiday period, reaching the pre-Covid baseline.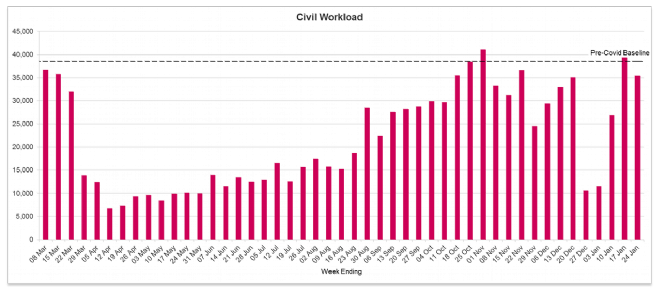 The number of hearings also continues to rise a bit more slowly, but nevertheless a sign that the courts and practitioners have, generally speaking, learnt to cope with the lockdowns.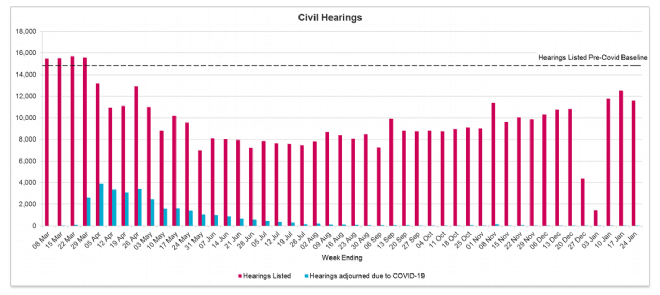 Portal Data
January 2021 saw a slight recovery in the low numbers posted in December 2020 but by comparison with the same month in the prior year, figures across the board were poor.
New RTA Claims
New RTA claims submitted rose slightly on the previous month, by 5.8% to 37,948. This was however 36.8% down on the previous year.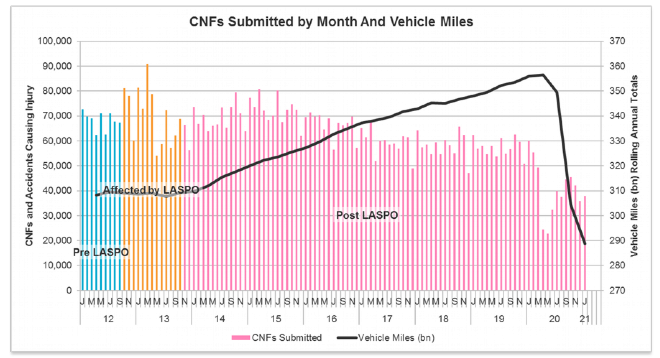 There was also an increase when taking into account the weighting for the reduced number of days in December.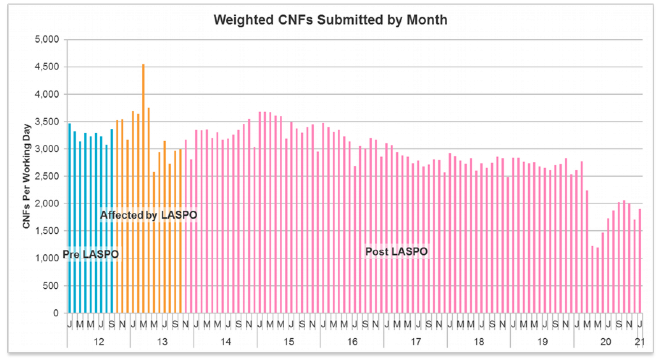 The long term downward trend continues and we should start to see that stabilise from March onwards, presumably at a level around 400-450,000 per annum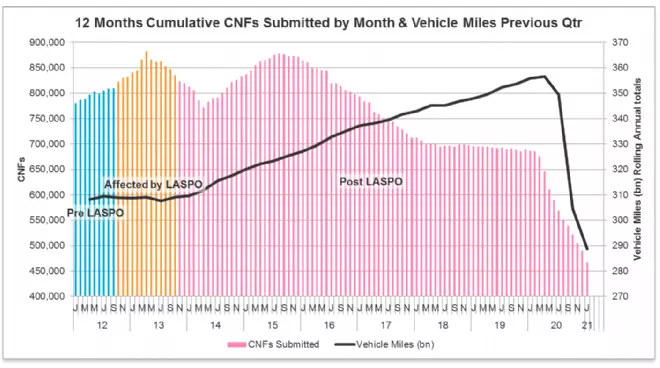 New Casualty Claims
In January there were 2,223 EL CNFs submitted to the portal, a rise of 11.8% on the previous month and a decrease of 39.4% compared to the same month last year.
PL claims submitted came in at 2,953, a rise of 17.6% on the prior month but down 36.6% on the same point in 2020.
The continued lockdown is the obvious reason for the low figures of new claims arising. Any increase is unlikely to be before April once non-essential retail and hospitality returns.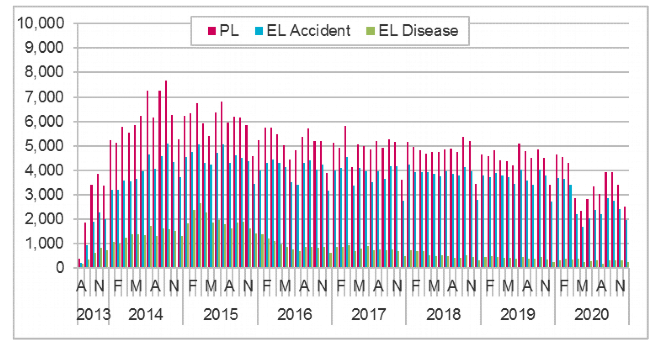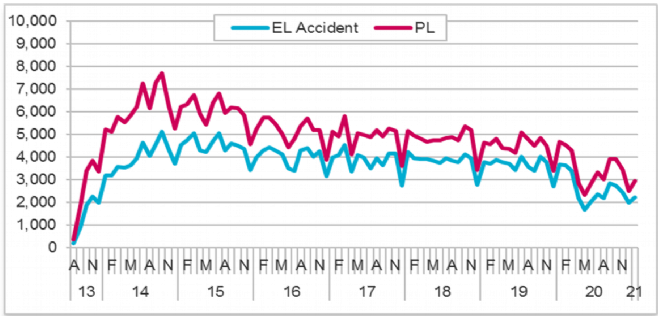 As with motor, the cumulative graph also continues to move inexorably downwards.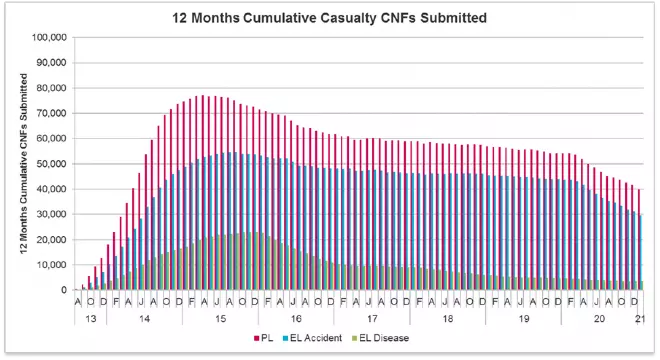 Court Packs and PSLA
There was an increase in the number of Court packs presented in RTA, up 7.7% to 3,658. This was down however 29.2% when using the annual comparison, and as we said last month December was the lowest for many years, so it is a low benchmark.
EL rose to 2,223, an increase of 11.8%, whilst PL new claims were at 2,953, a rise of 17.6%. The annual comparisons were well down again, however.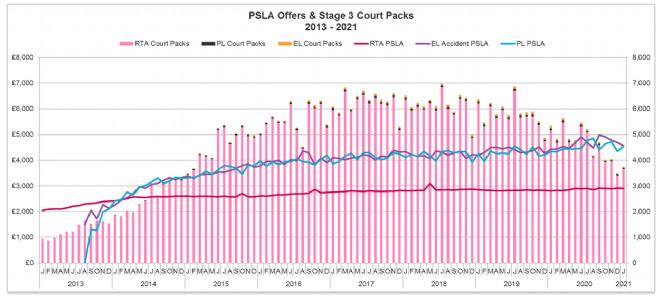 Average PSLA for Motor was fairly steady at £2,897. In EL Accident there was a slight reduction to £4,551 (down 3.0%) and for PL an increase to £4,548 (up 4.6%).
Retention
Last month you will recall that we saw a large increase in the number of claims exiting the portal process for an unspecified reason. This does seem to have been a blip with a more normal profile back in the breakdown of concluded claims. An increased number of Stage 2 settlements has led to fewer exits, but the trend to exit for the 'otherwise' reason has been in general expansion for a while.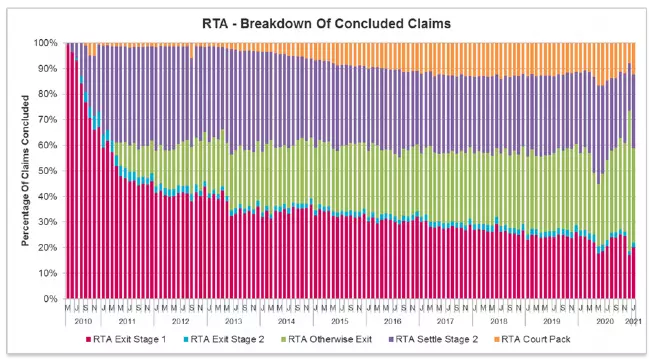 Last month we saw retention figures drop considerably and although they have bounced back, the second graph below shows the cumulative retention figures in RTA still falling, reflecting the reduced number of cumulative new claims.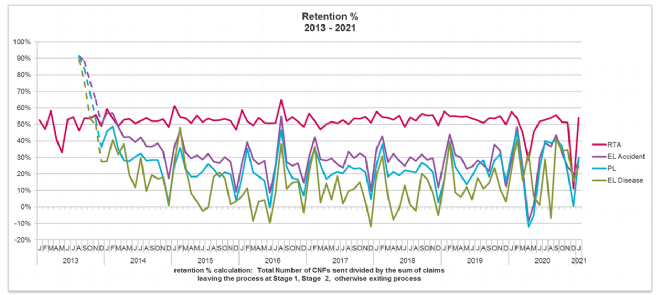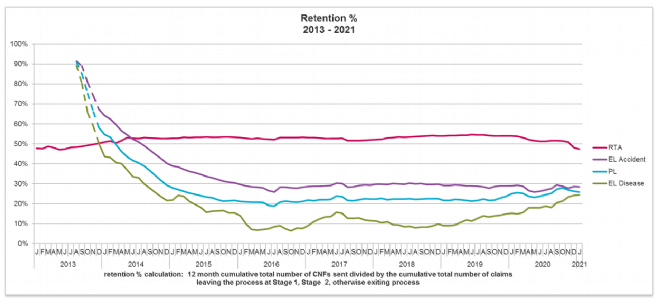 So the general trend of declining numbers in the Portal continues. Matters should at least stabilise when looking at year on year trends when we reach April and see a comparison with the affected periods 12 months earlier. And who knows, maybe at that point we might start to see some upward trends as normal life returns briefly, before we enter a further affected period as the market reacts to the whiplash reforms.
One way or another it promises to be a rollercoaster year….
In the meantime, watch out for our full commentary following publication of the PAP/Rules relating to the reforms, hopefully in the next few days!
If you require any further information, please contact Nigel Teasdale.