Through the Legal Services Panel, DWF will provide general legal services (lot 1) to UK central government departments and other public sector bodies.

Download our panel prospectus

The panel commenced in December 2021 and will be in place for 3 years and be extendable to 4 years.

If your organisation is eligible to use the Panel, please download our prospectus to find out how we can help you.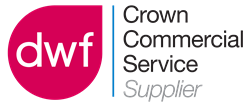 If you have any questions, please contact Jonathan Branton, Panel Relationship Manager and DWF's Head of Government and Public Sector.